Hashtags play an important role in the ever-evolving landscape of social media & digital marketing. But when you have so many hashtags, how to know which ones can work for you and when? This is exactly where the best hashtag tracking tools come in!
"Hashtags are the new keywords"

Brian Solis, Social Media Strategist
Definition of Hashtag Tracking
Hashtag tracking is a procedure to monitor the performance of a specific hashtag/s across different social media platforms. Basically, hashtags act as virtual signposts to make your content discoverable among a larger audience. They amp up brand awareness and enhance connectivity chances in like-minded individuals.
But posting some popular hashtags without any strategic approach can't help. This is where the best hashtag-tracking tools jump in. They help you in identifying the right tags & gauge the sentimental approaches related to them. It's a perfect way to discover some unique opportunities & stand out from the rest.
Benefits of Using Hashtag Tracking Tools in Social Media Marketing
Stop blindly throwing hashtags in your social media posts! It's high time to leverage the power of the best hashtag tracking tools. Find the accurate hashtag for your audience according to their interests, demographics, preferences, requirements, etc.
Optimize Hashtag Selection & Performance
Do you want valuable insights before posting a specific hashtag in your Instagram, Twitter, Facebook, YT, or LinkedIn post? The best hashtag tracking tool can help you here in knowing different metrics. They may include versatile features of audience reach, impressions, particular hashtags' engagement rates, etc. It'll give you the best chance to filter out what you need exactly! After posting optimized hashtags, wait for crazy engagement and connectivity on your account.
Identify Latest Trends
Hashtag analyzing tools are the hub of exploring opportunities for trendy & popular hashtags. Who doesn't want to enjoy some cool conversations on their posts? Grab this golden chance and check out which hashtags can initiate convo on social media using the "#" tracking tool. Try to be niche-specific while finding such top-notch tags.
Make Data-driven Decisions
Brands, influencers, marketers, & individuals use different tracking tools to effectively manage their social media campaigns. Moreover, find trendy hashtags, and explore content ideas. You should also consider using a hashtag tracking tool as it's essential to enhance traffic on your social media page, profile, etc.
Refine Social Media Strategy
Initially, people used as many hashtags as they could on Insta. Now, using meaningful hashtags is good enough to captivate the audience and ensure effective connectivity.
The above-mentioned thing is the perfect example of staying updated on the latest social media trends. It is super crucial to have appropriate knowledge of what you are going to do.
Additionally, it'll clear your goal in mind and let you be more strategic plus informed while hashtagging further.
Measure Real-time Results
Hashtags are still a big chunk of your social media game! They are not going anywhere this time too. A tracking tool can measure the real-time performance of your used hashtags. Check it out must and try to infuse some versatile thoughts and ideas to get new hashtags or use the previous ones with a new approach.
If you haven't explored our hashtag generator, then you should check it out. You don't need to spend a single penny here. And get unique and personalized hashtags as much as you want. Analyze them with your tracking tool and shoot them to your social media & post them to win crazy engagement.
Engage with Target Audiences
Identifying & connecting with your target audience is the key to successfully launching/running social media campaign. Again, tracking tools can help you a lot there if you want to implement things smartly. Get real-time data parameters about your ideal audience's likes/dislikes, behavior, needs, and preferences. Plus, it is crucial to know what's the right time to post which hashtag with content optimization. It will make your content more searchable and worthy when you satisfy the needs of your target market & use hashtags of the same intent.
Gain Competitive Advantage
Tracking tools having social media insights give you a competitive edge. How? Due to well-informed future marketing strategies, you actually have an advantage over your competitors.
It's because you stay up-to-date on what's happening in social media marketing and what will be the next trends! Strategize things after evaluating versatile factors, do's, and don't, Furthermore, it gives you a clear picture in your head. Now, you are ready to shoot for a great SMM strategy to win the social media game!
Measure Success with Valuable Metrics
It basically deals with shared/reshared Instagram posts, tweets, etc. Moreover, how many people visited your page, and which posts got the most likes and engagement? Such metrics are super helpful in knowing how your strategies are flowing. 
Are they working right or is it time to shift toward something new? Be smart and curate strategies after evaluating all facts and stats via using your # monitoring tool. Now the question arises What are some of the optimized and best hashtag tracking tools to use? Well, we've covered you below with this thing too!
Top 12 Hashtag Tracking Tools
Whether you are planning to test any simple hashtag or location tag, use a hashtag tracking tool! Following are some of the best hashtag tracking tools. You should consider 'em as per your needs for impactful marketing:
Let's understand this tool's basic concept. It provides you with the best measures of your brand popularity/awareness supporting results in 90+ languages. It's an insightful tool for exploring customer behavior (sentiment) trends via audience segmentation. They are based on robust and reliable metrics plus stats-based info.
Additionally, Brand24 analyze your competitors & their strategic approaches. It lets you refine your social media marketing essential plans. You can get a lot of help from its # tracking significantly to amp up your hashtagging game! It's an ideal platform for small-scale and medium-scale digital marketing businesses.
Pros
Cons
Real-time monitoring of social media trends
Limited data support for non-English languages
Easy setup & application
Lack of integration with some platforms
Competitor analysis & appropriate hashtag tracking
Publishing aspect lacks some advanced features
Budget-friendly pricing
Customer support team can be larger to tackle user queries effectively
Comprehensive reporting
Mobile app interface could be improved
Pricing: 14-days Free Trial (Available) + $69-$399 (Get tailored monthly/yearly packages)
Rating: 4.6/5
Rite Tag is the second-best hashtag tracking tool that helps you in optimizing social media strategies. Its popularity among folks is based on real-time hashtag recommendations & feedback.
Using this feature, you can pick the most suitable hashtags for your content confidently and post 'em to get more visibility and engagement. It's nothing wrong if we say it as your personal hashtag assistant! Start leveraging its unique aspects today!
Pros
Cons
Provide actionable statistical analysis
Limited exposure when you're using the free version
Actively forwards popular hashtag alerts
It lacks advanced customization
Multiple platforms integration like Buffer/ Hootsuite
Privacy concerns to some extent
Hashtags color grading to identify their popularity trend easily
Learning curve could be better with more insights into hashtags application
Pricing: 7-day free trial + Paid plans starting from $49/month
Rating: 4.2/5
As of its name, Brandmentions claims that it digs the internet's every corner to fetch real-time results about hashtags/mentions. Get ready to acquire and retain your clients being a social media guru using this top-notch & best hashtag tracking tool. Stay updated on your customized social media hashtag trends now at every single second.
Pros
Cons
Influencer tracking plus configurable notifications
Overwhelming data volume is sometimes challenging to interpret
Pretty awesome user interface
Language and regional setbacks
Track brand sentiments & create opportunities to shape sound strategies
False positives can be a big pitfall sometimes that needs to be filtered out manually
Ideal platform to gather client feedback
Too pricey for small business setups
Pricing: Starts from $49/mo & $99/mo depending on business needs
Rating: 4.6/5
Create a buzz in the social media industry by considering Hashtagify. It's one of the best hashtag tracking tools as its name shows the purpose effectively. It caters to businesses of multiple sizes ranging from startups to large-scale businesses. But mostly it covers small-scale business needs. It offers an in-depth evaluation of Twitter tags. Get a chance to explore customized suggestions too. Let's dig into its perks, pitfalls, pricing, and rating.
Pros
Cons
All-inclusive hashtag research
Non-Eng languages support can be better
On-point trendy hashtags analysis
Limited features in free version
Customized hashtags applicable suggestions
A little bit tricky platform for beginners
Track popular hashtags used by influencers
Entirely dependent on trendy fluctuations of data
Pricing: 7-day Free Trial + Paid plans start at $29/month
Rating: 2.9/5
Are you in the pursuit of non-stop hashtag monitoring? Awario has covered you here with robust analytics & insightful info regarding the latest hashtagging trends. Create an impact now on your targeted audience by picking the right tags. Let's have a look at some pros & cons plus the pricing & rating of Awario:
Pros
Cons
Get a chance to make it super-organized/personalized
Require refinement in training & support process
Opportunities to explore and reach a bigger audience
More advanced functionality is needed
Automation is next-level on this platform
Expensive for massive keywords analysis
Track your brand mentions flawlessly
Sentiment analysis is not always reliable
Pricing: 5-day free trial + $24/month & other Paid Plans
Rating: 4.4/5
What's better than Twitter's owned monitoring tool to track hashtags & much more? Yeah, TweetDeck is here as a treat for those who want top-notch engagement tracking & brand awareness. The 1st version was launched in 2008 & Twitter bought it in 2011. It's time to check out some further details including advantages, setbacks, pricing, and more.
Pros
Cons
Ideal for Twitter specifically
Can't be used for other social media accounts
Real-time data organizing, monitoring, & engagement tracking
Advanced analysis is lacking here
Customizable dashboards for easy data management
Finite social media integration with no excessive opportunities
Capable of scheduling & posting content at the exact time
Does not support team collaboration
Pricing: It's totally FREE, so won't cost you even a single penny!
Rating: 4.5/5
If you are setting up your digital marketing business and you need a # generating and monitoring tool, here you go! All hashtag is suitable for those who are looking for a tool that can help them by costing $0!
Yeah, it generates hashtags for you plus you have a perfect chance to get some personalized hashtags as well. Strengthen your marketing strategies by getting insights on hashtags & their popularity.
Pros
Cons
Get personalized hashtags as per your requirements
Advanced audience analytics is not supported
Extensive hashtag database
Non-Eng hashtags variety could be better
Curate on-point hashtags to run successful social media campaigns
Interface is not extraordinary
Trendy hashtags evaluation
Big businesses can't leverage this tool due to limited exposure
Pricing: 100% free usage
Rating: 3.5/5
You're exploring the right tool if you want out-of-the-box social mentions tracking. Keyhole lets B2C businesses & agencies track their campaigns, keywords, hashtags, and more across different social media platforms. Get ready to make data-driven decisions by using one of the most reliable and best hashtag tracking tools.
It measures the activity of influencers and brings the best results. It's incredible, right? Moreover, it claims that you require no more manual grind when it comes to social media insights. Leverage its robust features today!
Pros
Cons
Monitor social media brand campaigns effectively
A little bit costly for startups & small businesses
Measure profile's growth and track engagement activity
Customer support service lacks efficiency
Thorough market research & competitor analysis
Some tracking options could be more advanced
Automate social metrics as a game-changer
Learning curve is not beginner-friendly
Pricing: No-credit 7-day Free Trial + Starts from $79/mo
Rating: 4.3/5
Small businesses & mid-market social media agencies should consider Socialert. It provides budget-friendly plans for metrics and info tracking. Get the idea of who's saying what regarding your brand plus you can trust it for hashtags performance.
Pros
Cons
Super easy to use
It basically focuses on IG & Twitter, so limited accessibility for other platforms
Flawlessly generates shareable reports for social media keywords & tags
No significant exposure when it comes to platform integration
Cheaper as compared to other social brand metrics tracking tools
Learning curve could be improved
Comprehensive social media tracking analysis
No direct social media posting possibility
Pricing: Free Trial for a month with 1000 free mentions tracking + Paid Plans start from $9.95/mo
Rating: 4.4/5
Talkwalker is one of the leading social media tracking tools. Now monitor your hashtags, keywords, and brand awareness with a more robust approach. Centralize your data of likes, mentions, engagement, & audience reach under the umbrella of Talkwalker.
Accelerate your social media campaign tracking by 2x with real-time customer engagement analytical reports. Talkwalker is your go-to source in letting you identify trendy tags and what people are loving currently. Influence the perception of the market by shaping out-of-the-box strategies. Plus provide your customers with what they require!
Pros
Cons
Unlock access to broader aspects of brand awareness
Its user interface is a little bit tricky to tackle
Valuable data extraction from the customer's voice
Lacks innovation and uniqueness
Provides actionable insights to shape future strategies
Slow in updating hashtags & labels
In-depth social media listening at scale
Learning pathway could be more efficient
Pricing: Negotiable Pricing (Tailored Quote)
Rating: 4.5/5
If you want to get smart ideas & personalized content suggestions to amp up social media connectivity, IQHashtags is for you! Leverage its AI assistance feature to brainstorm IG post ideas. Get reel metrics & accurate hashtag performance monitoring using this tool. Furthermore, it supports comprehensive profile analysis with advanced # research.
Pros
Cons
In-built banned hashtag checker to keep your social media game safe
Customer support takes a lot of time to respond to queries
Complete package for hashtags research & profile analysis
Critical understanding is required to get full advantage of its features
Understand customer behavior smartly and deliver them valuable content
There's a room for advancements in learning curve
Hub of exploring unique & popular hashtags
Check out pricing plan as a must before subscription
Pricing: 7-day Free Trial + Paid Plans Start from $6
Rating: 3.7/5
Taggbox is a social media aggregator tool. It collects data-driven results from versatile marketing platforms including Insta, FB, Twitter, and more. You can enjoy a user-friendly interface, embedded widgets for sites, & real-time insights info. Well, let's discuss some auspicious specifications below as it's not the end of the story:
Pros
Cons
Illustrate social media feeds
Limited customizability to some extent
Uncomplicated interface is a big plus
For some social media platforms, it's not supportive
Real-time tracking, latest updates, & moderation
Large-scale usage requires shifting towards advanced paid plans
Leverage embeddable website widgets
Navigation is a bit slow while changing any specific feature
Pricing: Free Plan availability + Paid Plan Started from $24/mo
Rating: 4.5/5
How Do I Choose the Right Hashtag Tracking Tool for My Business Needs?
In conclusion, the best way to boost social media marketing is to select the right tool that aligns flawlessly with your brand voice. Pick one of these best hashtag tracking tools smartly & try to use its free (trial-based) version at first. If it seems pretty good to give you appropriate hashtag metrics & valuable consumer insights, then you should consider stepping up your game by investing in paid plans.
Remember, the best tool is the one that perfectly matches your criteria and fulfills your requirements to the maximum possible extent.
Do you want unlimited free hashtags for your next social media campaigns? Create unlimited hashtags by leveraging our Free Hashtags Generator. Then, try them in your posts & amp up your engagement activity on IG, FB, YT, LinkedIn, Twitter, and other social media platforms.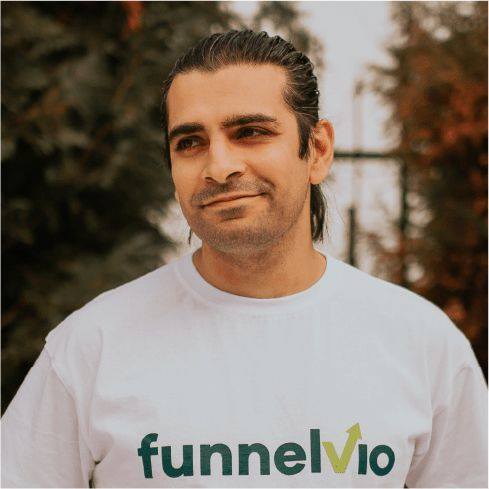 I am a full-time online marketer, for over a decade now. Helped over 100,000+ people & generated well over $12M in online sales.