Ahoy, fellow adventurers of the digital seas! If you've got a hearty love for all things pirate and a fondness for dashing captions to adorn your Instagram posts, you've dropped anchor at the right place. Welcome to our treasure trove of 60+ Pirate captions for Instagram that will give your photos that extra splash of maritime flair!
Whether you're a savvy buccaneer, a loyal member of Captain Jack Sparrow's crew, or just someone who can't resist the allure of the open ocean, our collection of pirate-inspired captions will have you ready to set sail on your virtual journey. From witty quips that'd make even Blackbeard chuckle to adventurous lines that'd make Elizabeth Swann raise an eyebrow, we've got you covered for every type of post with our clever pirate captions.
Source: Pexels
Unlock the treasure of likes and comments with these pirate Instagram captions that arrr guaranteed to shiver yer timbers! So, me hearties, prepare to plunder the best of the pirate lingo for your posts, and let the swashbuckling begin! 🌊🦜📸
Pirate Captions For Instagram
Ready to make your Instagram posts stand out? Dive into a world of witty and daring with our collection of pirate captions for Instagram. Add some charm and humor to your posts and get those well-deserved likes and arrr-mazing comments.
Sailors tell stories, pirates make legends.
Under a black flag, we shall sail. 🏴‍☠️
Make sure you get your second wind, third, or fourth.
Where there is a sea there are pirates.
Sunkissed and pirate-approved. ☀️🏴‍☠️
X marks the spot for the best adventures.
Balls. Lots and lots of cannonballs.
A man is made of many ingredients but most of them are water.
Pirate code: Ne'er say thank you. Say: I'll kill you tomorrow.
Anchors aweigh, ready to seize the day!
Source: Pexels
Clever Pirate Captions
Being a pirate is no easy thing. You need to be bold, free, and witty. These clever pirate captions will take you nearer to your destination and get you clout on social media!
A smooth sea never made a skilled pirate.
Don't let these waves wash away your hopes.
Ah! Finally got my ship together.
Oh, I love weddings. Drinks all around!
To err is to human, to arr is to pirate.
Life's matra: Discover the world. See new places. Meet new people. Drink rum!
"Why join the navy if you can be a pirate?" – Steve Jobs
"The sea, Frederic, is a jealous mistress. But she is her own reward. Believe me, you've missed nothing." – The Pirate King, The Pirate Movie
I'm sorry, I didn't know they owned the sun.
Dead men tell no tales.
Funny Pirate Captions
If you've seen Pirates of the Caribbean, you must be aware that pirates can be rather funny. If you love some harmless humor, use these hilarious pirate captions to make your feed even more amazing!
Always be yourself. Unless you can be a pirate. Then always be a pirate.
Totally shipping this.
All for rum and rum for all.
Last fool standing. Always.
Arrr you ready to set sail on a treasure hunt? 👀
"What's a pirate minus the ship? Just a creative homeless guy." – Bo Burnham
You had me at ahoy.
All my friends are on my crew.
Did someone say pirating is illegal?
I'm not lazy, I'm just on island time.
Source: Pexels
Pirate Halloween Captions
If you decide to dress as a pirate for Halloween, you need the perfect caption to go along with your pics! These pirate Halloween Instagram captions will be great for your solo or group photos.
Who needs an eyepatch when you have got beautiful eyes?
A lot of effort goes into looking rugged.
It's like a pirate ship inside of here.
To life, love, and loot!
Pirate life forever, not just for Halloween.
I'm a little bit pirate, a little bit rock and roll.
Why did the pirate go to the gym? To work on his booty!
Looking for my mermaid!
Yo-ho, yo-ho, a pirate's life for me!
I am the reason Roger is jolly.
Short Pirate Captions
Try out our Short Pirate Captions! Add a splash of pirate fun to your Instagram with just a few words and get ready to unleash your inner pirate! These will be perfect for your pirate photoshoot Instagram captions.
I was born to rum.
I like black pearls.
Let's Rome the world.
Arrgh means 'I love you' in pirate.
Home is where the anchor drops.
Ruler of the seven seas.
My name's Jack Sparrow.
On a forever adventure.
If only I had a moral compass.
Let's get lost at sea.
Shedding salt water (crying).
Pirate Costume Captions
Dress to impress this Halloween with your pirate costume. Let your outfit tell a tale as adventurous as the seven seas on your Instagram.
I think Captain Jack Sparrow would approve.
Let me try that on.
All hands on deck! When you look this good, you gotta show it off.
Jack Sparrow makeup on!
Scaring like a pirate!
Ready to be a pirate at one call.
Bring me the earring and the eyepatch.
Feel underdressed without my pirate garb!
It's all fun and games until someone needs an eyepatch!
My booty looks pir-fect!
Source: Pexels
Conclusion
With our haul of 60+ Pirate Captions for Instagram, you're all set for some popularity on your social media. From clever lines to bold sayings, these pirate captions will make your pics stand out like a shiny doubloon.
Whether you're new to this or a seasoned sailor, these words will steer you right for more likes and comments. So, hop aboard and get ready for a sea of compliments. Swap plain captions for these lit captions for Instagram posts and let your Instagram journey be full of excitement. 
Arrr you ready? It's time to set sail for Insta-adventures like no other! You can use our Free Captions Generator for more such ideas, mate!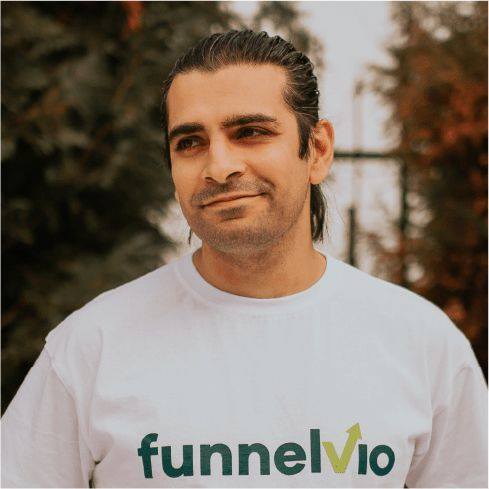 I am a full-time online marketer, for over a decade now. Helped over 100,000+ people & generated well over $12M in online sales.