We love it when someone shares a photo of their pet. If you're like us, you can't get enough furry content on your feed. And cats are good and all, but everyone knows dogs rule. But what makes them even better? Well, cute Instagram captions for dogs certainly don't hurt!
Whether you have a gallery filled with selfies of your dog or pics of your doggy taking a nap, it's time to share the cuteness with the right animal hashtags. It's paw-sible for you to get the right Instagram selfie caption every time because we've combined a list of the best captions for pics with dogs.
Source: Pexels
Now you won't have to Google a caption every time you want to post a pic with your furry baby. We've thought of everything from golden retriever Instagram captions (for the selfies) to funny Instagram captions for tongue-out pics.
Don't fur-get to have fun with the posting sessions and be ready for many likes and comments with these aww-dorable Instagram captions for dogs!!
Cute Dog Captions For IG
Dog owners never get bored of their four-legged babies. Whether it's dressing them up in quirky costumes or recording their woofs, cute dog Instagram captions can really come in handy. These are some of the dog IG captions that you can use for their adorable pics of your pet.
What else can be said except 'Pawwwwwww!'.
Made fur each other. 💕
I wonder if my dog dreams about me.
This friendship is fur-real.
Cuteness overload, am I right?
Paw-lease stop being so cute!
We take our belly rubs very seriously.
Love is a four-legged word
I'm the CEO of snuggling.
You can't resist these puppy eyes!
The perfect balance of mischief and cuteness.
Snuggles and wagging tails make everything better.
Source: Pexels
IG Captions For Dog Looking Out The Window
Dogs love the outdoors, everybody knows that. But when they can't go outside, they can be seen gazing out of that window, making for Insta-worthy moments that require the funniest captions for Instagram!  Here are some captions that go well with a dog looking out the window:
Let me out, hooman.
Window watcher, daydreamer.
Forecast: Rainy day with a chance of poodles!
Lost in thoughts, staring into the great unknown.
Mommy, can we go for a walk?
She's watching out for us.
Life is totally paw-some!
On my bark, let's go to the park.
The world outside is a canvas, and I'm the curious artist.
Guardian of the window, protector of the house.
Short Dog Captions For Instagram
You want to post a pic of your dog but don't have time to write a caption? Don't worry! We got you covered with these short dog captions for Instagram.
Dreamin' of treats!
Dog hair, don't care!
I labradore you!
Little dog, big heart.
Eat, sleep, cuddle, repeat.
Bestest boy in the town.
Have a wagtastic day!
All about the doggo vibe.
Stop, drop, and roll over.
Funny Sleeping Dog Captions For Instagram
Your dogs sleep as though they've worked too hard the whole day. Although they look the most precious while sleeping, it can be the perfect opportunity to show off your humor. Here are some of the funniest sleeping dog captions for Instagram posts:
The definition of paw-fection!
Do not disturb the cuteness.
Mondays can be ruff.
Could I BE more adorable?
I'm not a morning dog, just let me sleep in!
The puggle is real.
The nap life chose me.
When you fall asleep watching TV with your bestie.
Livin' my best life.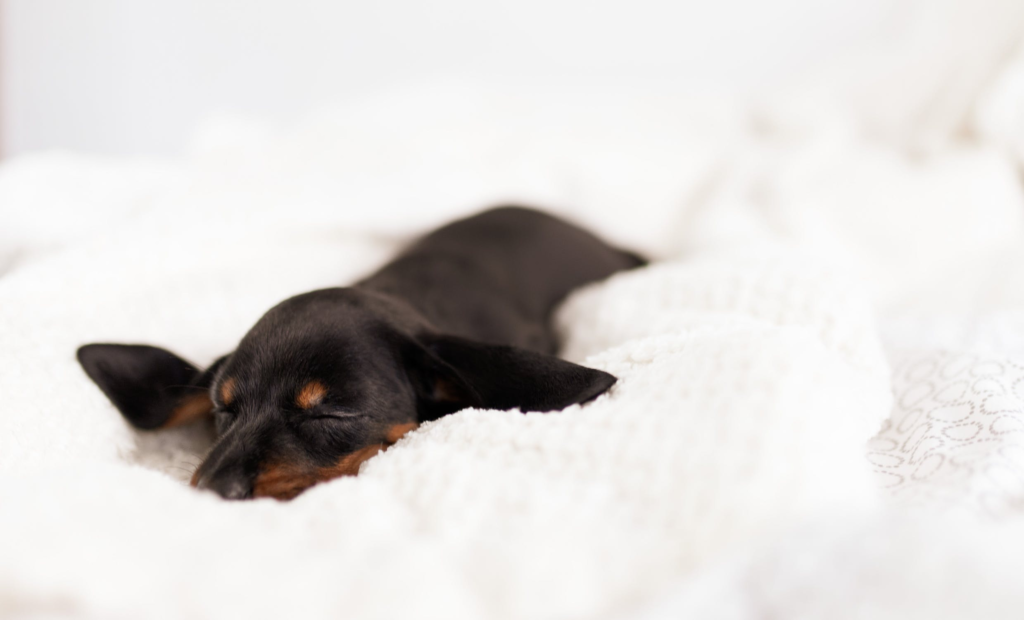 Source: Pexels
Rescue Dog IG Captions
Why shop when you can adopt? Rescuing a stray dog and getting to take care of them can be pretty heartwarming. So, it's perfect to document that journey with their transformation pics and pair them with these Instagram captions for your new dog.
You can't buy happiness, but you can rescue it.
Welcome home, new baby.
Dog baby on board.
Our newest member of the family.
I didn't rescue her, she rescued me.
My little lifesaver.
We gave him a home, he gave us hope.
First she stole my heart, then she stole my bed!
I am going to give you so many belly rubs!
She's in for a treat (lots of them)!
Best Dog Captions For Selfies
Spending time with your doggo is self-care. Take those selfies with your furry baby and give them lots of kisses! That bonding sesh should be shared with your followers too. Check out these paw-some captions for selfies with dogs.
It beagles my mind how cute you are.
Dog kisses heal everything.
My paw-tner in crime.
Woke up like this.
No filter needed for this cuteness.
Me + my dog = happiness
She's a poser!
Smile for the camera, furry one.
Mommy and son bonding time.
Don't we look paw-jus?
Our beauty secret? Lots of naps!
Happy Dog Captions For IG
You always want to see the apple of your eye happy. Dog smiles are precious and we couldn't be more excited to see a smiling photo of a dog. Here are some happy dog captions to make your day:
Love is a wet nose and a wagging tail.
What's all this about booping my nose?
A sleepy dog is a happy dog.
I'm happy 'cause Mommy called me a good boy.
All I need is sunshine and yummy treats.
Unlimited naps are the haps.
Pawsitively delighted to meet you.
Pure doggy bliss vibes.
Happy furry package of sunshine.
Spreading joy, one tail wag at a time.
Source: Pexels
Funny Captions For Pics With Dogs
Posting dog pics is a great way to bring some creativity to your feed. With cute dog Instagram captions, you can win the hearts of many. And these cute dog Insta captions are quite a crowd-pleaser:
Don't tell Dad I ate half of his shoe. And don't ask which half.
I'm sure the cat was responsible for this.
You had me at woof!
The world's best cuddler, right here.
If I can't have your bacon, at least give me a belly rub.
Not now, I haven't had my morning treats!
You're barking up the wrong tree.
When life gives you lemons, find a tennis ball instead.
Listen, I'm not clumsy, just practicing my parkour skills.
What the fluff is wrong with cats?
Clever Dog IG Captions With Puns
Imagine if your dog could speak. Wouldn't it be fun? Dog POVs make for the cutest POV captions! And to make it even more hilarious, you can add puns! These clever dog Instagram captions will make you quite pawpular:
Can't escape the pup-arazzi
Let us take some time to paws and reflect
Do you like my self-pawtrait?
A dog always nose.
I love the howlidays
I'm pupular at the park
Pawdon me, are you going to finish that steak?
My mom thinks I'm such a su-PAW star!
It's a wunderfur life.
I love you furry much.
Source: Pexels
National Pet Day Instagram Captions
Although your pet deserves your love every day, they should be celebrated even more on National Pets Day. Pet parents all over the world post the cutest pictures of their fluffy babies. We've come up with National Pet Day Instagram captions for dogs to save you the time!
Keep calm, and let this cute little angel take care of you.
The road to my heart is paved with paw prints.
Fur-tunately I found the best pet in the universe.
A smooch for my pooch on this special day.
Time spent with your pet is never wasted.
If there are no dogs in heaven, I don't want to go.
I've never met a dog I haven't liked.
Home is where my pets are.
Places to go, people to lick, all year long.
You're never lonely if you have a dog by your side.
Best Instagram Dog Love Quotes
When it comes to our pets, our love for them is unconditional. However annoying they may get, our hearts get fuzzy when we cuddle with them. Here are some cute dog quotes for Instagram to post with your favorite memories:
"A dog is the only thing on earth that loves you more than he loves himself." – Josh Billings
"A dog will teach you unconditional love. If you can have that in your life, things won't be too bad." – Robert Wagner
"A dog has one aim in life… to bestow his heart." – J. R. Ackerley
"Dogs are not our whole life, but they make our lives whole." – Roger Caras
"The world would be a nicer place if everyone had the ability to love as unconditionally as a dog." – M.K.
"My little dog—a heartbeat at my feet." – Edith Wharton
"No animal I know of can consistently be more of a friend and companion than a dog." – Stanley Leinwall
"The only creatures that are evolved enough to convey pure love are dogs and infants." – Johnny Depp
"The greatest fear dogs know is the fear that you will not come back when you go out the door without them." – Stanley Coren
A dog is the only thing that can mend a crack in your broken heart. – Judy Desmond
Source: Pexels
Final Thoughts
These were some woof-tastic Instagram captions for your dogs' pics. We hope you put these to good use and make your dog Insta famous! Even better, these can inspire you to create your dog's Instagram account. It can bring you thousands of followers if you're smart with your IG dog captions.

Rest assured, we've tried our best to cover all the scenarios you might need a caption for. I mean, you can improvise from here! Just get creative and use these as inspo to come up with wunderfur captions. Or you can always take help from popular dog Instagram quotes or the Free Captions Generator.
We hope you never run out of captions for dog photos on Instagram and your dog never runs out of belly rubs! Happy posting!